i]
●Shinigami●
[/i]
~Basic Info~
●
Name:
Zane Hataro
●
Alias:
Black Blaze ( Given after becoming a shinigami due to his black-fire kidou and zanpakto attacks.)
●
Age:
725
●
Appearance Age:
21
●
Age Of Death:
21
●
Gender:
Male
●
Squad:
Captain of Squad 6
●
Appearance: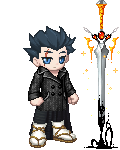 ●
Personality:
Zane's personality can vary, depending on the area he is in or the events occurring presently. Primarily he is bored of most things in the soul society but finds combat, war, the human realm, and different types of hollows to test his power against interesting. Zane's hobbies around the soul society are training his body by fighting members of his squad without using his zanpakto and sparring with other captains or lieutenants.Commonly, he visits the the captain of research and development to find out about any new events or new types of hollows being discovered recently.In the living realm, on the other hand he mainly spends his time fighting humans ,who know how to use a sword, in his gigai solely to improve skill and see how the super-humans or other races in the living realm are doing, power-wise
~Zanpakuto Information~
●
Name:
Raienzo
●
Release Phrase:
Lolling envy cascades beneath a black sky dying slowly in a casket of infinite density
Aiming too high the burning arrow misses and makes its mark on a setting sun......Blaze Raienzo
●
Zanpakuto Family:
Kuro Kouen( Black Fire )
●
Sealed Appearance:
●
Manifestation Appearance:
●
Shikai Appearance: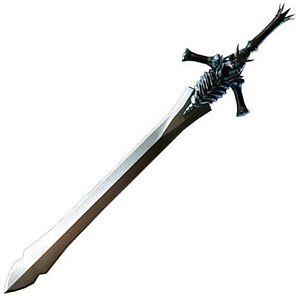 ●
Shikai Ability:
The unleashing of Raienzo engulfs the users blade in a transparent gray flame that just covers the steel edges of Zane's zanpakto. As time goes on in a fight the gray flames lose their transparency and turn into a more powerful black flame that slowly expands forming larger blades around the base zanpakto until it is roughly four times it's base size. This process merely gives the blade a burn effect on contact at first, but as the blackened flames around it expand, it can reach a heat high enough to melt living flesh and bone on contact . It takes fifteen minutes ( two posts) for the heat to intensify and expand a level and stops rising in power after reaching 4x it's size and heat.Lastly by forming the heat-energy from a layer of black flames that cover Raienzo's steel, a ray ( pending on what level the zanpakto was in ) of black fire can be focused into a sphere of concentrated fire that on contact explodes unleashing a set amount of reiatsu and and flames around where it had hit.. After which a layer of flames is removed from the blade weakening it, but reforms just as it originally had ( 2 posts wait period. Referring 2 posts to two posts sent by user, not by all rpers in an area)
~History/RP Sample~
●
History:
Living Realm 300 Ad
During his life as a living human, Zane trained in the art of the blade with his father, who was enlisted as a soldier for an upcoming war,in order to best him in combat and later on join the same army. After three years of training the basics, Zane moved on to an advanced area for young warriors in the town to learn more skilled techniques for the upcoming wars of the area. After the training sessions ended. Zane had reached the age of 16 and with his father now dead from fighting in the now ended wars, he traveled across the continent as a ronin samurai. Much later on the land broke out into war once again. Now being 19, Zane enlisted in the Tokugawa military and fought at the front-lines of sekigahara. After the battle he had taken several life-threatening wounds along his chest that, if were 2 inches deeper, would have reached a vain connected to the heart which would stop it from functioning killing him instantly. Even after such a dire occurrence he continued to fight in two more wars. The battle of edo and attack of an eastern area owned by the shimazu clan. His death toke place at age 21 when he lost in a duel against yoshiro shimazu and had his head crushed to nothing but a puddle of blood by an enemy war-hammer.
Aftermath 321 Ad - Present Day
After his death Zane wandered across the battle ground of his death and in due time had a konso preformed by the lieutenant of squad eight. After entering the soul society he was confused about what the hell was going on so he had asked other local souls about the soul society, rukon district and seireitei. After adjusting to the new world and towns, Zane moved to rukon district, hearing that a lot of violent souls lived in the area and liked to fight. Quickly after entering rukon he had already got into a fight with one of other souls in the area and had trouble fighting since the only types of combat he had adjusted to were with blades and not hand to hand. Spending several hundred years in rukon, Zane fully adjusted to the life-style of the area and trained him self against other souls until he had become one of the most skilled fighters in the rukon district. Through the years he had found a blade much like the one he had back in his time as a human, although he didn't remember much about his time in the living realm now, he used the blade from that day on until eventually his spiritual pressure merged with the blade turning it into his zanpakto. After being in Rukon for over three hundred years, Zane joined the shinoreijutsuin or soul reaper acadamy to learn the arts of kidou and to progress in his skill with his zanpakto. Over the time in the shinoreijutsujin, Zane learned three kidou skills, one being hadou 54 which oddly produced black flames instead of the ordinary attack, the second being bakudou 61: Rukujyoukourou, which toke up to a year for him to fully perfect, and lastly Hadou 33: Soukatsui.
After graduating the academy, Zane was appointed 3rd seat of squad 6 which was owned by Byakuya at the time. Until recently, He had served as third seat of squad 6 until the time of Rukia, Byakuyas adopted sister's execution, toke place.( now every1 who watches bleach knows how that goes so I'm not gonna explain what happened at the execution)After the fight that toke place and the betrayal of Aizen, Gin, and Tosen, Zane requested that byakuya would teach him how to unlock the power of his bankai. The first several attempts the captain denied but after making a deal that if Zane could fend off Byakuya's scatter technique and succeed,as one who always obeyed the rules of the soul society and stuck to his word, brought Zane Hataro to a training ground where he could unlock his bankai. After showing him the place Byakuya left him to train alone and after roughly three years of training in the area, he unlocked his bankai and passed the test his zanpakto, Raienzo, had set for him. After unlocking such a power, Zane kept it hidden for many years until the event of the dimensional god occurred. With his captain, as well as many others including Yamamoto dead, he revealed his bankai and toke a test to apply for the new captain of squad 6.Lastly after completing the tasks requested, Zane Hataro became captain of squad 6 with his zanpakto Raienzo.
●
RP Sample:
Zane Hataro walked across the dirt pathed road ahead with the sound of the burning embers from his shikai, instilling the only sound in the air. Stopping his movement at a deserted area miles away from the seireitei, Rukon district or any commonly used part of the soul society. With his blade at it's fourth and most powerful stage that his shikai was capeable of, Zane gripped the hilt of the blade with both hands and raised it up so the sharpened tip pointed directly at the sky. Concentrating his spiritual pressure around his zanpakto, he would begin to speak the phrase indicating the unleashing of his bankai in a semi-deep tone " Deienkai...Raienzo!" With that being said the on-going flames around his zanpakto exploded into a mass0 wave of flames that burned every object, evaporated all water, and blocked out all sunlight around him. The sound of the explosion could be heard for up to thirty miles and seen from fifty while the towering flames began to swarm back down and around his zanpakto. The black embers formed together around the steel enfusing with it and making the very blade it self half fire.The remainder of the unleashing then scattered in all directions as Zane moved his right arm, which was carrying the blade, toward his chest then slashed it to the left sending a large wave of spiritual pressure in every direction, clearing the area of fire,smoke and ashs.
● ● ● ● ● ● ● ● ● ● ● ● ● ● ● ● ● ● ● ● ● ● ● ● ● ● ● ● ● ● ● ● ● ● ● ● ● ● ● ● ● ● ● ● ● ● ●
[Only for Captains, And Vice captains]
-Bankai-
●
Bankai Name:
Deienkai Raienzo
●
Bankai Zanpakuto Appearance:

With a stream of black flames flowing along the edges of the blade.
●
Bankai Character Appearance:
The appearance is the same as it is normal with one minor adjustment. The bottom of his feet are covered in a small amount of black flames that can be used to enchance damage from kicks and burn an opponent's flesh on contact.
●
Bankai Ability:
The ability of Deienkai Raienzo is a much more powerful version of the base shikai ability. The blade can now reach a fifth and sixth stage that at the fifth, allows the user to use a wide spread manipulative power with the flames and at the sixth stage use a skill known as " Dela Ba-suto Blaze" Which is a concentrated beam of black flames that can burn through most of the soul society, heuco mundo, and the living worlds barriers and walls .. The beam is five feet in lengh and width and dis-ables the use of bankai for a day ( 3 IRL days or 20 posts ) Also while in bankai the zanpakto raises a stage every post excluding the sixth which takes two posts to unleash the last stage also 2xs strength ( Other zanpakto are immune to the burning/ melting properties of the shikai/ bankai abilities as well as vaizard masks and hollow masks although hollow masks can still be burned but not melted)